Do you or a loved one suffer from depression?  What if you can effectively treat depression without drugs and feel better in just under 2 weeks?  With the latest technology in transcranial magnetic stimulation (TMS), this is what Dr. Helen Ly has been practicing in her TMS clinic, Brain Body Balance TMS, in East Memphis.  A board-certified neurologist and a neuroscience major at Vanderbilt University, Dr. Ly was very intrigued when she learned about a "brain therapy" that can treat mood and neurological conditions.  Over the past three decades, TMS has been used as a proven psychiatric tool used to treat major depressive disorder, or severe depression. TMS is FDA-approved and uses magnetic energy pulses to stimulate brain cells in specific areas of the brain to treat depression.  If you do not have a pacemaker, implantable medical device, or any metal in the head, you can do TMS.  It is not "shock therapy" otherwise known as electroconvulsive therapy.  You do not need to be sedated nor take any additional medications to receive the treatment. Effects of treatment are long-lasting, depending on the severity and complexity of the condition being treated.
What's exciting is that there is a newer and better form of TMS called theta burst stimulation (TBS) that is more efficient and just as effective as standard TMS.  Treating with TBS cuts the treatment time for depression to just 10 days, compared to 6 weeks of near daily treatments with standard TMS.  Each TBS protocol takes only 40 seconds to a little over 3 minutes.  This means a single TMS treatment session averages only 15 minutes compared to 30-40 minutes with the standard approach. TBS is also more comfortable since TBS is more compatible with natural brain wave frequencies making it more tolerable and effective.
"The results for treating depression with theta burst stimulation have been overwhelmingly positive", says Dr. Ly.  Since offering patients TMS a little over two years ago, the success rate at the clinic for treating depression is over 90%.  "It's amazing seeing patients come out of depression and get their lives back".  At her TMS clinic, Dr. Ly offers a personalized treatment plan for TMS to treat other neurobehavioral problems such as cognitive dysfunction (brain fog), post-concussion syndrome, poor quality sleep, post-traumatic stress disorder and chronic pain.
**For more information about Brain Body Balance TMS,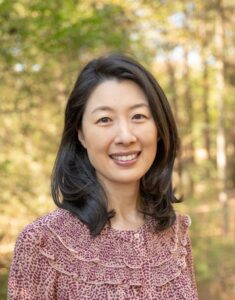 Helen Ly, MD